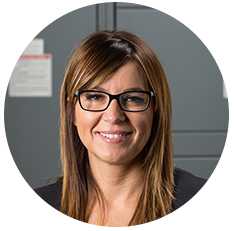 Ibi Guevara
Friend of CSBS
VP of Business Development and Marketing
Hunt Electric
Ibi has been active in the Utah business community. She is a member of the Salt Lake
Chamber, EDCUtah, Corporate Alliance, and the Society of Marketing Professional Services, and currently serves on the board of Urban Land Institute and serves on several NAIOP committees.
She is a past IFMA board member. Ibi was included in Utah Business Magazine's list of "30 Women to Watch" in 2010 and "Forty under 40" in 2016, was named Salesperson of the Year by the Association of General Contractors in 2009, SMPS Marketer of the Year in 2010, and Wasatch Women Business honoree in 2011. Her personal achievements in business have been mirrored by Hunt Electric's success as an award-winning player in the electrical industry.
Ibi holds an MBA in Business and Marketing Management from Colorado Technical University, and a law degree from Dimitrie Cantemir Christian University Faculty of Law. She is proficient in three languages. Ibi spearheads Hunt Electric's community outreach activities, including annual participation in the Brockstrong 5K. Past events have included holiday food drives for the Utah Food Bank, the Christmas Shoebox Drive, and the annual Sahara Cares Autumn Carnival for Autism. She currently serves on the Lupus of Utah Foundation committee.
Ibi is married to Darrin Guevara and they have four beautiful children. In their spare time, the family enjoys camping, hiking, boating, and in the winter, skiing on the best snow on earth.