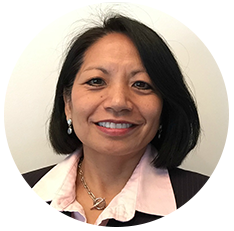 Florian Hernandez
MPP
Executive Director
Philippines Humanitarian
Florian Hernandez is the Executive Director for Philippines Humanitarian, a non-profit organization, providing funding for the education of impoverished children in the Philippines. She holds a Master of Public Policy from the University of Utah and a Bachelor of Science in Economics from Utah State University. While at the University of Utah, she interned at the Office of the Legislative Fiscal Analyst and was engaged with projects for the Utah Division of Securities and Voices for Utah Children. She is a member of Pi Alpha Alpha, the National Honor Society for Public Administration.
Her professional career in the financial industry spanned over 15 years as an Investment Analyst at the Workers' Compensation Fund of Utah, and later as a Financial Advisor for Morgan Stanley. She presently serves on the Council of the American Society for Public Administration (ASPA) Utah Chapter where she is President for 2016-2017.
Education and the underrepresented have been the focus of her past and current endeavors. Much of her efforts have comprised of volunteer work with schools and non-profit organizations, including West High School, the Madeleine Choir School, Prevent Child Abuse of Utah and the Good Samaritan Program. She will be substitute teaching in the Salt Lake City School District this year.
Florian, her husband Brian, and their two sons Nik and Deron, love Utah and all the outdoor recreation it offers. Travel, sports, and reading periodicals, books, and studies on an eclectic array of subjects are her choice of pastimes.
A long believer in the value of schooling, Florian's long-term goals are to continue promoting, improving, and ensuring access to education, and ultimately to effect policy changes on an international scale.