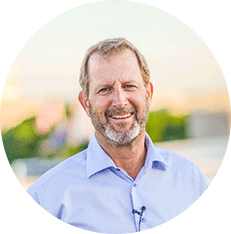 Gary Fish
BS Economics
Founder and Chairman
Deschutes Brewery
Gary Fish is the founder and chairman of Deschutes Brewery. The 30-year-old company began as a modest public house and restaurant in Bend, Oregon, and is now heralded as one of the country's original and most successful independent craft breweries. In addition to the pub and manufacturing headquarters in Bend, Deschutes Brewery has an additional location in Portland, Oregon, and plans to build in Roanoke, Virginia. The company employs more than 530 people nationwide and is on tap or in the beer aisle in 29 states and the District of Columbia.
After graduating in 1979 with a bachelor's degree in economics, Gary continued working his way up in the restaurant industry. He and his wife Carol moved to Bend in the late 1980s to open Deschutes Brewery, where he remains active guiding the company and giving time to serve on boards of directors for various regional business, industry and non-profit groups.
For every barrel of beer sold, Deschutes Brewery donates $1 to non-profits, upholding one of Gary's long-held business values to build healthy communities everywhere the company operates.