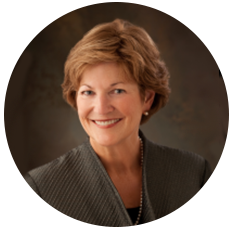 Karen White Fairbanks
BS Home Economics
Owner
Fairbanks, Inc.
Karen White Fairbanks, a lifelong resident of Ogden, manages Fairbanks, Inc., a national purchasing cooperative in the underground piping industry, with her husband Rick. Previously, they owned and operated the industrial piping firm W.R. White Company. She received her bachelor's degree from the University of Utah. Karen was appointed to the Intermountain Healthcare Board of Trustees in 2010. Previously, she served on the Intermountain McKay-Dee Hospital Board of Trustees and was named chair of that board in 2009.
She was appointed to the Weber State University Board of Trustees in 2013, as well as to the Davis Applied Technology Board of Trustees.
She also has served with the Weber Basin Water Conservancy District, Ogden Symphony Ballet Foundation, Ogden School Foundation Committee for the restoration of Ogden High School, Junior League of Ogden, Ogden Nature Center, McKay-Dee Hospital Foundation and Utah Girl Scout Council. She and her husband have philanthropically supported programs in business, arts and humanities, athletics, education, and health care in the Weber County area. They were inducted into the Ogden-Weber Chamber Wall of Fame in 2009.