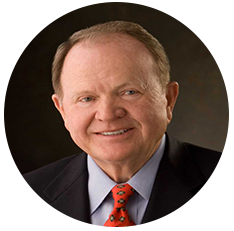 Ellis Ivory
BS Political Science
Founder & Retired CEO
Ivory Homes
Ellis R. Ivory ( B.S. Political Science) is the founder and retired CEO of Ivory Homes, Utah's top homebuilder for 22 consecutive years, with nearly 50 locations along the Wasatch Front and St. George. Ivory began his real estate business in 1964, after graduating from the University of Utah. In 1967, Roger Boyer (his Sigma Chi fraternity brother and later brother-in-law) joined Ivory and the two formed the Ivory and Boyer Co., the original developers of Bloomington, a now-well-established community just south of St. George. In the 1970s, Ivory founded Ivory and Company and concentrated primarily on real estate brokerage and home site development. Economic conditions in the 1980s demanded that he turn his attention to home building and Ivory and Company would soon become Ivory Homes. In 2000, he sold the business to his son, Clark D. Ivory, and has been retired since 2001.
Ivory has served as the chairman of the Deseret News Publishing Company Board of Directors, vice chairman for the Newspaper Agency Corporation, chairman of the This Is the Place Foundation and a member of the Hale Centre Theatre National Advisory Board. He has also served as stake president for The Church of Jesus Christ of Latter-day Saints and, along with his wife, served as an LDS Church mission president in England from 1979 to 1982. At the U, he has served on the Health Sciences Council, the Diabetes Advocacy Board and the Alumni Association Board of Directors.
Ivory was named a Junior Achievement of Utah Laureate in 2006, and on May 21, 2009 he received the Salt Lake Chamber of Commerce's "Giant in Our City" award. He and his wife, Kathryn, are the parents of seven children.