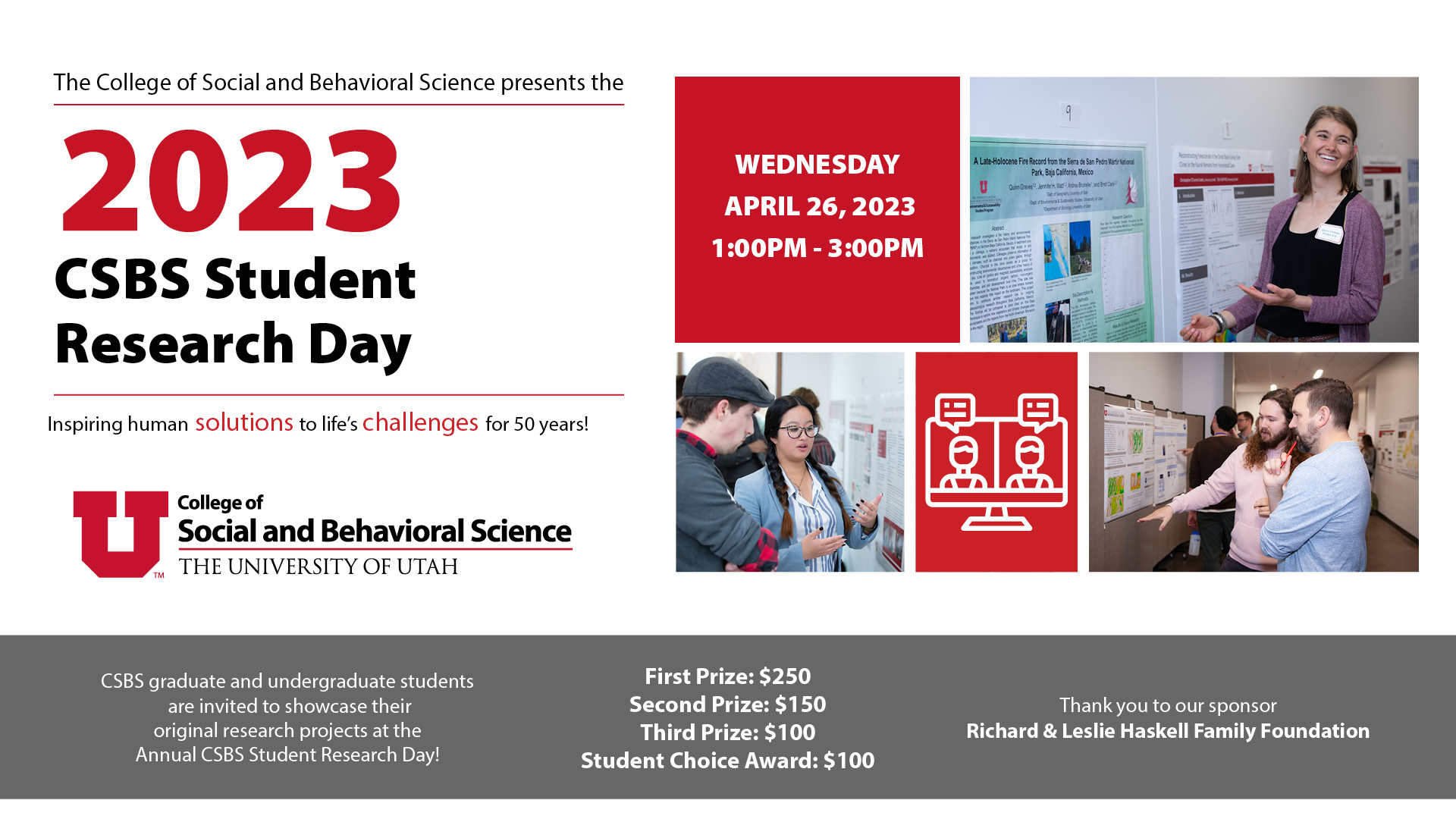 2023 CSBS Student Research Day
Wednesday, April 26th
1:00pm - 3:00pm
Gardner Commons 2900 & 2950

*Registration is CLOSED for 2023 CSBS Student Research Day*

If you need any accommodations to participate, please email events@csbs.utah.edu
Both graduate and undergraduate students in the college will be given the opportunity to showcase original research projects using poster presentations, and family and friends are encouraged to attend as well. A panel of faculty judges will evaluate the projects. Student researchers are expected to be in attendance during the main exhibition period on April 26th from 1:00pm - 3:00pm.
Prizes will be awarded for best posters in each of the graduate research and undergraduate research categories thanks to our sponsors the Richard & Leslie Haskell Family Foundation. The Student Choice Award will be given out to the student whose poster receives the most votes during the main exhibition period.
First Prize: $250
Second Prize: $150
Third Prize: $100
Student Choice Award: $100
This year's event will take place in-person on April 26th, 2023 in GC 2900 & 2950, two large conjoined classrooms.
Student research posters will be displayed throughout GC 2900 & 2950. P

articipants and guests will be spread out between multiple rooms to ensure proper distancing

.
Students will have 5 minutes to present their research posters to judges, followed by a short question and answer period.
Upon the conclusion of the presentation / judging round, event participants will reconvene for the awards ceremony.
Pizza will be served for all event attendees.
Additional event details to follow.
Event Schedule

1:00pm

-

Event Start
1:00pm - 1:15pm

-

General event assembly, introductions, explaination of event format, rules, etc.
1:15pm - 2:15pm

-

Presentations and judging round.
2:15pm - 3:00pm

-

Reconvene in GC 2900 for awards ceremony.
Student presenters will convene in GC 2900 with students, judges, and guests.
Judges will rotate throughout the event space evaluating student research presentations. Students will be given 5 minutes to present their research poster, plus additional time for follow-up questions from judges.
Students are required to submit a research poster as part of Student Research Day. Please make sure to drop off your research poster no later than April 21st at 3:00pm

to the CSBS Dean's Office (GC 3725).

Upon the completion of each student presentation, participants, judges and guests will have the opportunity to browse other research presentations, until all participants and guests reconvene for the awards ceremony.
Students must be the primary producer of the work.
The research must be original work.
Posters must be delivered to Gardner Commons, Suite 3725 no later than

Friday, April 21st by 3:00pm

in order to participate in Student Research Day.
Posters should be no more than 48" in height and 60" in width. 36"x 48" posters cost $36 or $3 per square foot if printed through the Marriott Library Knowledge Commons Desk. Helpful tips for poster design and printing can be found through the Marriott Library here.

If you use the Knowledge Commons Desk to print your poster, please note that their printer's maximum height is 42" and you will be asked to provide a jpeg or tiff file of your poster.

Posters prepared as part of a class project or already presented at conferences are welcome.
April 14th:

Last day to submit your Student Reserach Day registration
April 21st: Deadline to drop off research posters - DUE by 3:00pm to CSBS Dean's Office (GC 3725)
April 26th: Student Research Day event